No Mr. President, I will not re-elect you!
---
The US election has some funny twists. Even spammers take advantage of the race between Bush and Kerry. Got SPAM from presidentialdeck.com today. They make use of a tracking service when you click on that image:
http://www.myreferer.com/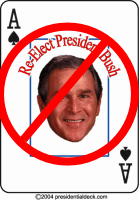 The face on the image (I sized it down 4 times and added the red circle) looks rather "dümmlich" (Sorry don't know the appropriate American word) to me. The mail claims I have opted in to receive it and it claims to be in compliance with the CAN-SPAM ACT. How does it come then that:
a) I never opted in
b) the sender is fake. The domain belongs to a Swedish IT service provider, who for sure is not involved in the presidential election
c) The email originated from a Hong Kong provider: "Received: from expert.com.hk ([64.57.203.132]) .... Tue, 12 Oct 2004 23:23:11 +0200
And:
NO Mr. President, I will not re-elect you!
... even if I would be an US citizen.
---
Posted by Stephan H Wissel on 13 October 2004 | Comments (1) | categories: Intercultural