Surfing in Singapore
---
We switched to a
SingTel MIO plan
recently. It did shave of quite some $$ from the phone bill due to its tripple play (land line, mobile, internet) However quality of service is patchy. The plan came with a
2Wire ADSL
modem and a theoretical access speed of 10 Mbit/sec. (I was toying with buying the 25Mbit Option, but it doesn't seem like a real deal). She-who-must-be-obeyed complained about a drop in phone voice quality which is bad since her mother speaks very softly and she is almost the only person calling the land line.
Connection speed to the internet has great variance. On a good day in the early morning I can get around 200 KB/s-300KB/s. Yesterday I tried to book movie tickets from ANY of our local sites (
Golden Village
,
Cathay
and
Eng Wah
. ) and it took more than 3 minutes for each site to respond (today it was 16 sec/ 1.2sec/ 11.5 sec measured with
this little gem
.). Looking for more data I found a test that allows to measure local and remote data with not really surprising result: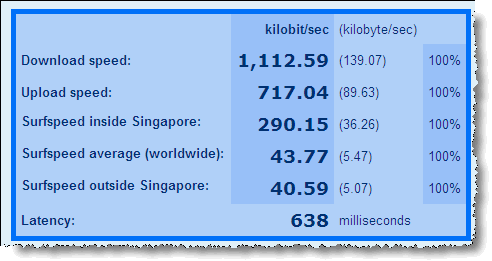 The latency seems particularly pathetic and about 12% of the potential speed inside SG is rather disappointing. Of course this is totally unscientific. However
Other sites
showed results in the same range: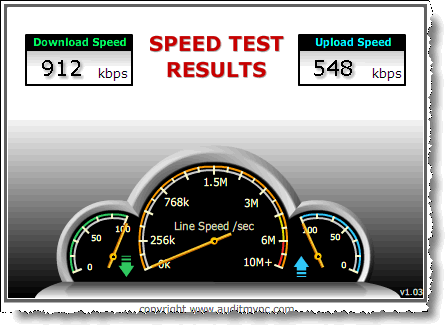 What irks me is two fold: first that massive mis-match between real performance and advertisement and the patchy reliability. More than once a day the router drops off the internet and takes a few seconds to reconnect. Anything going on then is dropped (and if your 2GB file transfer --- that holiday video the aunties back in Germany wanted to see --- is 98%, too bad) and you have to restart.
Sigh -- consumer market and quality of service.
---
Posted by Stephan H Wissel on 26 August 2007 | Comments (1) | categories: Buying Broadband