MIO Box Upgrades
---

I'm a big fan of the
MIO box
(and I'm
not alone
). I cherish and preserve it. I preserve it to an extend that I don't want to put the burden of serving a WIFI signal to my home computers. It wouldn't do it reliably anyway and would stop to run DHCP over the air sporadically or stop functioning until rebooted. So an
AirPort
moved it recently. My MIO box software version is 5.29.111.1. Its online user interface tries to make it easy even if you don't understand networks very well. It nicely shows all locally (LAN and WIFI) connected machines including their names and even - sometimes - let you assign a name if the unit didn't broadcast one. To reduce confusion there is no way to delete entries of disconnected machines or force a full refresh. So the machines happily serving kids in an Indonesian school still live on my network. One really good feature is the prominent link on the status page to firmware upgrades. The idea is intriguing. Instead of going through the hoops and loops to navigate a support web site and locate the correct product a simple click would do and voila your router would be current. So in my tender loving care for my MIO box I regularly check the site to see if there is an upgrade. Unfortunately in 8 out of 10 attempts I'm greeted with this: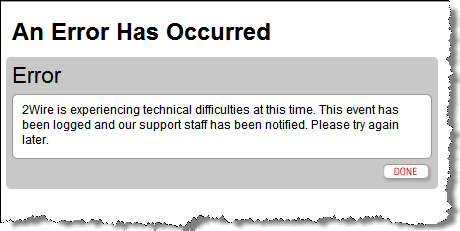 This really improves confidence in products and services of my
favorite provider
. Unfortunately the phone is hooked to the MIO box, so I can't
toss it out
increase my care and release it from the burden of active duty. Anybody knows how to hook an
Asterisk
to Singtel's MIO VoIP?
---
Posted by Stephan H Wissel on 12 January 2008 | Comments (0) | categories: Buying Broadband