Address Dialog on stereoids
---
Over the long live of Lotus Notes the address dialog has been a trusted, never changing compagnion: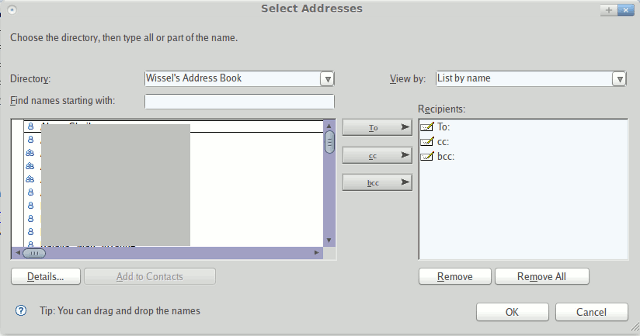 Over the years it got some facelift like the ability to drag and drop or the ability to sort by Notes hierarchy, language or corporate hierarchy (anybody seen that?) or to look at details in yet another window. It works OK as long as the number of names is small and diverse. However once you enter cultures that are notoriously short of last names and sport large companies it gets tedious to pick the right Mr. Wang or Mr. Lee. In short: the address dialog is overdue for an overhaul. Since simplicity isn't simple careful considerations are needed. How much more complex the dialog could get to stay reasonable and how simple it needs to be. The requirements I came up with can be quite conflicting.
I want to be able to filter the search scope based on a series of criteria:

by organizational properties (like department name or org type e.g. "sales"
by geography
by job role
by tags
by favorites
by source: internal/external, groups, individuals, from Facebook
by communication history: frequency or date
by search in communication
by search in profiles

access to list by first name, last name or nick name
suggestion of addresses from social analytics
display of additional information (address card + tags + list memberships) to positively identify the receipient
Indication if encryption is available or not
Indication if alternate access (e.g. shared communities) is available
I'm sure there are more criteria available. Packing all of them into one dialog might be a challenge. I played around and created a mockuphow it could look like. What do you think?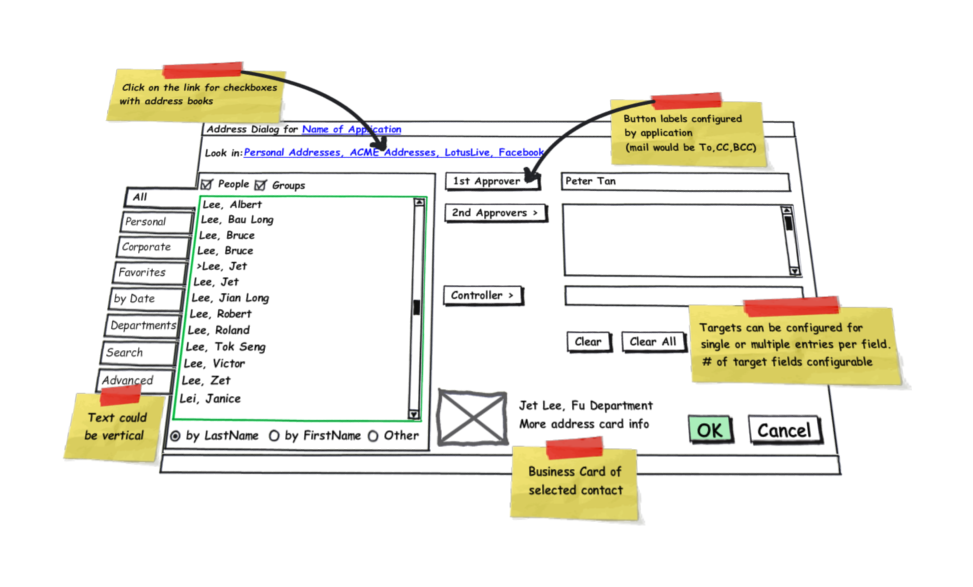 As usual YMMV.
---
Posted by Stephan H Wissel on 27 February 2010 | Comments (c) | categories: Show-N-Tell Thursday