Comparing Microsoft and IBM deployment diagrams - Part 1
---
Depending on whom you listen to TCO is the lowest for [insert-your-product-of-passion-here].
Robert Sutton
(a must read, yes -
every book
) suggest to base management decisions on
solid evidence
. So what is part of TCO? Hardware and software prices, real estate in the server room, electricity and cooling, labour for the admin for regular operations, patches and upgrade as well as opportunity cost for downtime. I'd like to shed some light on the hardware side. In a loose series will compare the hardware deployment for various IBM and Microsoft scenarios. For starters I use a comparison of plain Domino with plain Exchange. In a later post I will add mobility, instant messaging, collaboration and whatever comes to my mind. My first scenario is a single location with 12000 heavy mail users who demand high availability. Since I'm not a Microsoft expert I need to poke into public available resources for the deployment diagram and I guess I'll stand corrected in one or the other case. The first thing I had to learn about Exchange is that an Exchange server can have
different server roles
and that it is considered best practice to split these in large installations. HP's
sizing tool for Exchange 2007
was used for the Exchange estimates.The tool suggest 12 HP servers with 20 TB of storage. Since High Availability (HA) in case of Exchange means an active-passive setup, you buy 6 servers that don't do anything as long as the other 6 don't fail (HP builds great machines, so the probability is rather low). The 12 servers do not include the setup for Microsoft Active Directory which would add at least 2 more boxes (one could argue the directory is needed in any case - which I happily would debate, but that's a topic for another day). The whole setup looks like this: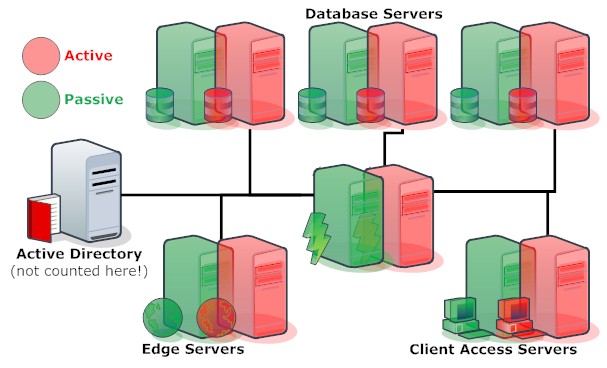 Now let us compare this to a Domino setup on an IBM System P. On a System p550 (that's not even the latest IBM P7 system) you would choose to run 3 LPAR (Logical partitions) with a total of 5 Domino partitions (4 for user access, 1 for directory and hub). Since Domino is an active-active cluster you have 6000 users per server or 1500 users per Domino partition (which is calculated on the super-save side. I've seen production systems with 10k and more users on one partition - but we have heavy users here). The whole setup looks like: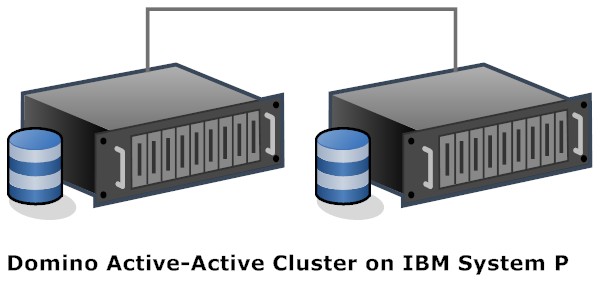 What is not in the picture are considerations around storage. IBM claims that the same amount of eMails on a Domino system needs substantial less storage than on Exchange, but that calculation is up to you (keep in mind how to configure
a high performance server
). Lesson to be learned: always ask any vendor to list out the machines they will need. More to come.
---
Posted by Stephan H Wissel on 22 March 2010 | Comments (4) | categories: Show-N-Tell Thursday