Communicating with IBMers and Lotus professionals using Sametime
---
You can communicate with IBMers and Lotus professionals using Lotus Sametime. Chris Pepin had
published the instructions
how to do that long ago. However there is more than this one option.
Update
: Thanks for all the comments. I've reformatted and updated the blog post accordingly.
You might not want to use (or be able) a Sametime client to connect (your admin might have disabled the capability to add a second community). In this case you can use
Pidgin IM
which is an OpenSource, cross platform and multi-protocol chat client. Pidgin uses
libmeanwhile
an implementation of the Sametime protocol not developed by IBM. To add a Sametime account follow this steps:
Open "Manage Accounts" (Ctrl+A) and select
A
dd...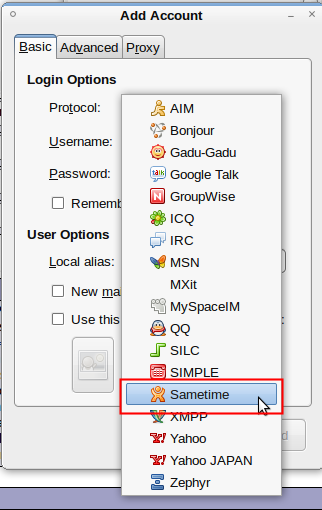 In in the new account dialog pick Sametime from the long list. It's quite impressive how many variations of messaging protocols are out there. Some of them are very local, e.g.
QQ
is mainly used in China.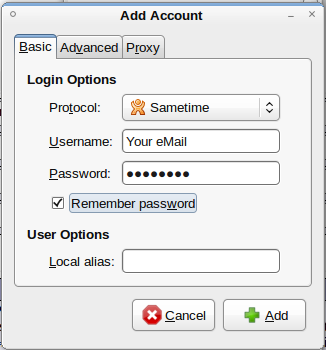 The user name you use is your eMail address and the password from the Bleedyellow registration. On the server tab you specify im.bleedyellow.com as server. Then you are all set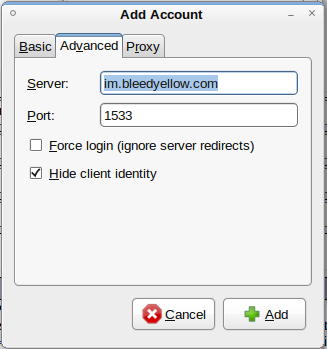 As usual YMMV.
Update
: Against
better advice
internet links rot and Chris' original blog entry is gone. So here are the steps (screenshots from the embedded Sametime 9.0, depending on your version they might look different):
In your Sametime preferences, go and add a (new) server community. The preferences can be accesses using File - Preferences or using the little gear icon next to the Sametime search box
Add your username/password to the screen and name (for you only) the community

Enter the server name and the correct port from above in the server tab

You can leave the Connection and Icon tab usually as they are. You might need to check Connection if your internal Sametime uses anything other than the default. Set it to Direct Connection

In Options you specify that the community can be used for presence lookups

Your new community is ready and shows up in your Sametime (sidebar) client

Waiting for your pings!
---
Posted by Stephan H Wissel on 16 April 2010 | Comments (e) | categories: Show-N-Tell Thursday