The taxi loyalty program isn't working and how to fix it
---
Singapore is a little like New York: train and taxis are a mainstay of the daily commute. So the taxi market is highly regulated and fiercely competitive. As no surprise taxi companies try to bind customers before they loyalty switches to
alternative bookings
or the
disruptors
.
So
Comfort & CityCab
started
CabRewards
. After all loyalty cards work well for
their inventor
.
In a smart move, instead of creating a new piece of plastic, Comfort teamed up with
ezLink
Singapore's leading provider of cash cards. Everyone in Singapore has a ezLink card, since they are used for train access and road tolls.
From there it all went downhill.
In
Usability
studies one of they key activities is to watch users and refine on their feedback. So I loaded my ezLink card, to see how Taxi drivers will handle it. In (so they told me, after I inquired with Comfort) an attempt (a futile one) to make things "consistent", the designer decided to add a prompt into the touchscreen application "
Cabrewards Yes/No
" before the driver can process payment. So something the driver has no benefit from stands between him and his livelihood. To no surprise, 95% of the drivers don't bother to ask "
Are you a CabRewards member?
", even when I announce "I will pay by ezLink". They just click NO and process to payment. If they would answer yes, they had to tap once for the points and another time for the actual payment. They have no benefit, so they skip it (and rightly so, their job is driving, not administration of loyalty programs).
I asked Comfort and they explained, I could ask the Taxi driver to switch back and add the points - but I'm not their program admin either. So how to fix this?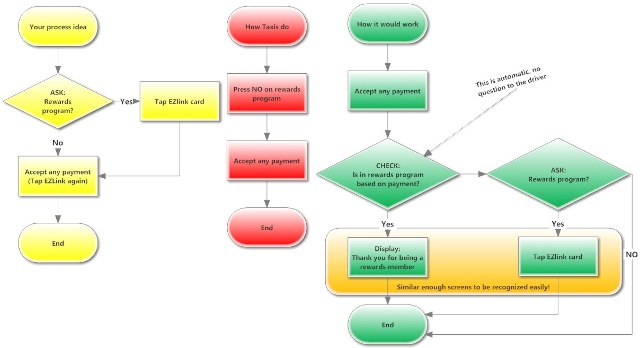 The graphic above, shows the intended workflow, the actual workflow and a possible fix. There are several touchpoints, where an automated IT system can determine if I'm a known passenger and a CabRewards member: I call a cab, I uase a mobile app to get a cab or I pay with a registered method of payment (ezLink, Nets, CreditCard). In all of these cases the taxi driver doesn't need to be bothered with a question. Most likely that also would cover most reward members. The ones paying cash might anyway not have registered for the program - or a simple change of terms (points only with electronic payments) would even completely eliminate the question. So far I haven't seen a change. I wonder if the person in charge of the process is trying to cover up the problem?
I would say: It is OK to have an idea, even if problems arise, just fix them. Despite
other opinion
there is no such thing as a "honest mistake". There is trial, error and correction (and start over).
Simplicity after all isn't simple
Comfort, you can do better!
---
Posted by Stephan H Wissel on 16 June 2014 | Comments (1) | categories: Business Singapore