The 3C of leader - leader: Clarity, Competence, Control
---
An organisation failing their objectives has a reflexive reaction: implement more controls. Rumor has it, some sales organisations perform daily cadence calls towards the end of a period to ensure deals close (as if time away from the customer helps).
L. David Marquet, in his book
"Turn the Ship Around!"
paints a different story. Like a plane needs 3 points to be defined, functional organisations need 3C to operate at peak performance:
Clarity, Competence & Control
.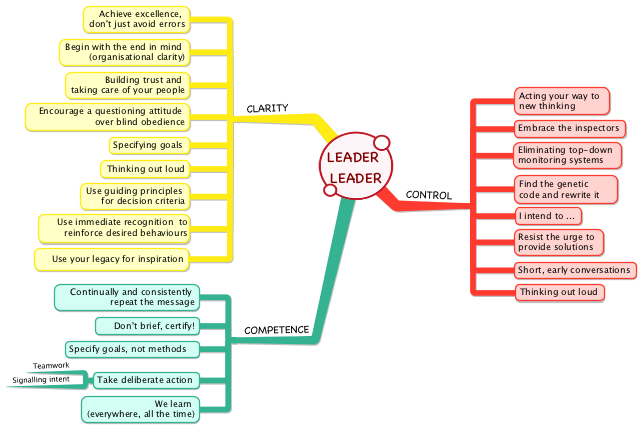 I wrote a
short review on Amazon
, but prefer the comfort of my blog to unfold a few thoughts.
In his story David is in an interesting position. In the pecking order of the Navy he is middle management, having at least 3-4 layers of management above him (until you reach
POTUS
), however on his ship he is in ultimate command. On high sea that is obvious. I wonder how many division heads, country leaders, section heads. etc. can related with that and see themselves in the same location and opportunity.
The killer question he asks is about processes (Page 159): "
Have your processes become the master rather than the servant?
". This is a brilliant question to irritate process champions - but essential to become a high performance operation.
The stance on "guiding principles" sum it up nicely: "The guiding principles needed to do just that: provide guidance on decisions". If they lack clarity, they can't do that. Some people use role models (contemporary, historical or spiritual): "What would [insert-name-here] do", but a clearly formulated set of principles (like "We the people ....") help to stay focused.
To that extend I like
IBM's core values
(and the mission: "Become the most relevant company on the planet"): Dedication to every client's success, Innovation that matters - for our company and for the world, Trust and personal responsibility in all relationships. Using them to decide if in doubt helps to preserve personal integrity.
Of course you could listen to
Immanuel Kant
and follow the categorical imperative:"
Act only according to that maxim whereby you can, at the same time, will that it should become a universal law.
" Or you take the shorter version as promoted by
Lama Marut
:"
Be nice
".
Enjoy
your read
. Makes a good present to manager too,
---
Posted by Stephan H Wissel on 09 January 2016 | Comments (0) | categories: Business Learning