What happened when - the Notes 1-9 time line
---
The
history of Lotus IBM Notes
makes an interesting read (there's a
Wikipedia version
too). Since 1989 (that's 24 years) Notes has delivered releases that are
fiercely backwards compatible
™. I loaded the
nifty fifty
into a current Notes client and the R2 databases worked (after a
compact
) just fine. I like to put things into perspective: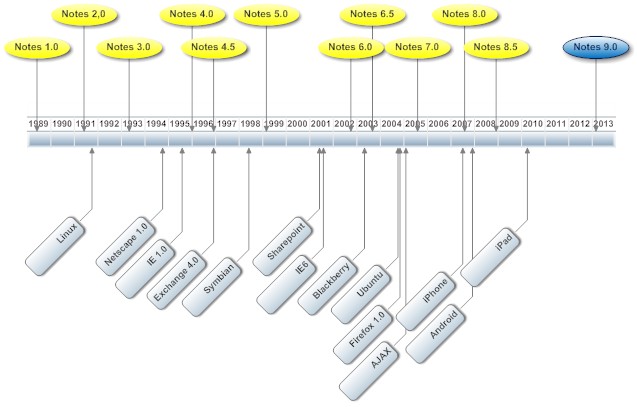 There are a few factoids that are quite interesting:
Linux is almost as old as Notes
The first public release of MS Exchange was 4.0 when Notes released 4.5. Ein Schelm wer einen Zufall vermutet
Symbian predated Blackberry by 5 years
Sharepoint was introduced in the same year as IE6, could there be coincidences to the pain level?
Android was released in the same year as the iPhone, but it took a year before phones were available
There seems to be a huge period of inactivity after the 5.0 release.
However there were not less than 12 point releases of the 5.0 code stream (5.0.1 - 5.0.13) with 5.0.8 the most popular (as I recall).
The biggest expansion of Notes were the following versions 6.0 / 6.5. So if history, as common saying goes, repeats itself, we are in for interesting days for Notes 9.0
2004/2005 was a big year for Internet technology: the term Ajax was coined, Ubuntu and Firefox had their 1.0 release
There seems to be a huge gap between 8.5 and 9.0 of 5 years. However in each of this years IBM delivered a point release with new functionality (just some highlights listed, check the full release notes to see all):
There are exiting times ahead for
IBM Notes
. See you in
Orlando
. Say hi.
---
Posted by Stephan H Wissel on 21 January 2013 | Comments (3) | categories: IBM Notes