ADSL2 - ADSL2+ and customer service
---
I learned the hard way, that ADSL2 and ADSL2+ are complete different specs. My hardware zoo recently welcomed a Linksys ADSL2MUE for the upcoming speed upgrade of my Internet home connection. I bought the package from the retailer, not the ISP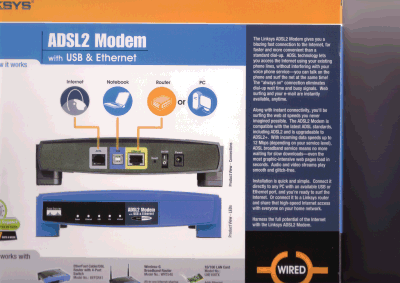 When looking closer at the package, Linksys reassures you, that ADSL2+ is an option:
"The ADSL2 Modem is compatible with the latest ADSL standards including ADSL2 and is upgradeable to ADSL2+"
Singtel has adopted ADSL2+ (with PPPoA instead the usual PPPoE, but that's another story), so I searched the Linksys support site, where the ADSL2MOE seems to be non-existent. The only thing I found was the GPL software for it. Ok, contact customer service. Why wasn't I surprised by their answer:
Dear Valued Linksys Customer,

Thank you for contacting Linksys Technical Support.

To upgrade the ADLS2MUE to ADSL2+, the ISP will be the one who will update it to that standard. We do not have any available software that will set the ADSL2MUE device to ADSL2+ standard. You may check with your ISP on how you can upgrade it.

If you have further questions, you may reply to this E-mail so that we may further assist you.

Regards,

[innocent supporters name]
Linksys – A Division of Cisco Systems, Inc.
Product Support Specialist
support@linksys.com
Website:

>Network Setup: http://www.linksys.com/edu

This correspondence is considered confidential and any reproduction for the purpose of public disclosure is forbidden without written permission by the author signed above.
I teach my children: Keep what you promise. Seems not to be valid for Linksys?
---
Posted by Stephan H Wissel on 06 October 2005 | Comments (2) | categories: Buying Broadband