---
TL:TR
With a few tweaks and clever setup, you can have web developers deliver front-ends for Domino without ever touching it.
Contemporary web development workflows separate front-end and back-end through a JSON API and HTTP (that's 21st century 3270 for you). The approach in these workflows is to treat the webserver as source of static files (HTML, CSS, JS) and JSON payload data being shuffled back and forth. This article describes how my development setup makes all this work with Domino and Domino designer.
The full monty
The front-end tools I use are:
The list doesn't include
one
or
the other
editor,
one
or
the other
IDE or
version control client
, since theses choices don't influence the workflow steps or setup. Pick what you like.
My general directory layout starts with a project folder that has entries for code, documentation, nsf and a misc. folder. I only put the
code
folder into the GIT version control.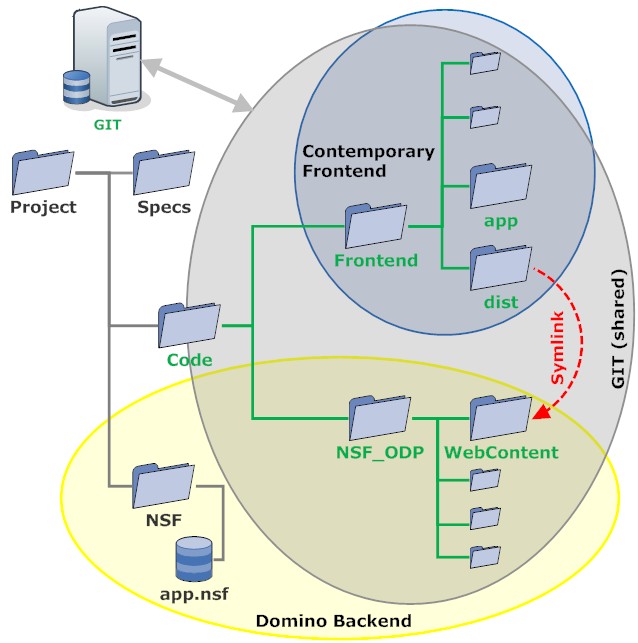 The front-end developer doesn't need any of the Domino components available to create user interface and interaction models. The back-end developer will use exclusively the REST controls from the Domino XPages Extension library (which is part of a default current Domino server install). The two directory structures are linked in a GIT project, but that isn't mandatory. One step that made my live much easier: take the
dist
directory and link it to
WebContent
. This saves me the step to copy things around. The fine-tuning of the setup is where the fun starts.
---
Read more
Posted by Stephan H Wissel on 30 October 2015 | Comments (3) | categories: XPages