---
Commonly attributed to Peter Drucker a cornerstone of management is "If you can't measure it, you can't manage it." (which according to the Drucker Institute he never said).
It's a Damned anyhow situation. In my oberservation KPIs are plagued by linear thinking and, what I call Gamability. Let me explain
Meet the feedback loop
We are caught in a "newtonish" world of belief that there is a linear relationship between a cause and effect. Most notably visible in post mortem demand for a root cause analysis (At least science gives ceteris paribus a thougth).
In his book The Fifth Discipline the author Peter M. Senge offers a different view and model. Most system, from small atomic particles to the Universe are bound in a series of feedback loops. The emphasis here is on loops -> plural. The various execution speeds lead to observable results, that can't be explained with single linear thinking.
Let's take a sweet example, that should be easy to relate: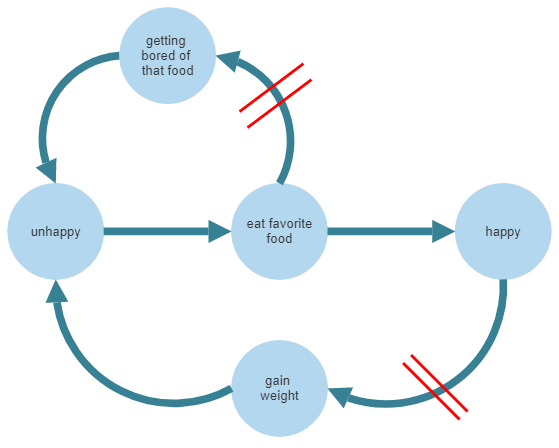 You don't feel happy, so you eat your favorite food. Now your happy. Two (obviously simplified) feedback loops kick off. The red lines indicate that the loops work with a delay.
The upper one removes the "favorite" from the food, while the lower one removes the hapiness inducing effect. Pretty obvious and as I said grossly simplified.
---
Read more
Posted by Stephan H Wissel on 30 March 2023 | Comments (0) | categories: Business Learning