---
I wanted to know what it takes to run Vista. So I headed over to CNet's "
Are you ready for Vista
" Advisor: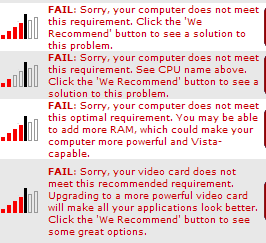 Seems like I'm in for some serious hardware shopping.
This looks
more tempting every day. Anyhow I moved most of the data off NTFS onto a NAS and experiment with
an alternative
. My nice from Australia is here for a visit and after a week she hasn't figured out, that it is not Windows she uses to read here email.

---
Posted by Stephan H Wissel on 19 December 2006 | Comments (5) | categories: Software