---
In the
last installment
I got vert.x to emit a Notes view, read from your local mail file, to be emitted as JSON stream. While that might be perfectly fine for the inner geek, normal mortals want to look (and interact) with something more pretty.
The cool kids on the block for web interfaces and applications are
Twitter BootStrap
and
AngularJS
, so these will be the tools in this installment.
Not familiar with them? Go and
watch some videos
. Back? Let's get going.
Since I'm not much of a designer, I choose the ready made
Admin LTE
template based on bootstrap. The main reason for choosing this one, was a
timeline layout
that I wanted for the inbox.
My inbox is already sorted by date, so it should fit nicely (so I thought). However the view optically is categorized by date and under the hood just a flat list of
<li>
elements. A little tweaking was necessary. The result looks quite OK for an after hour exercise: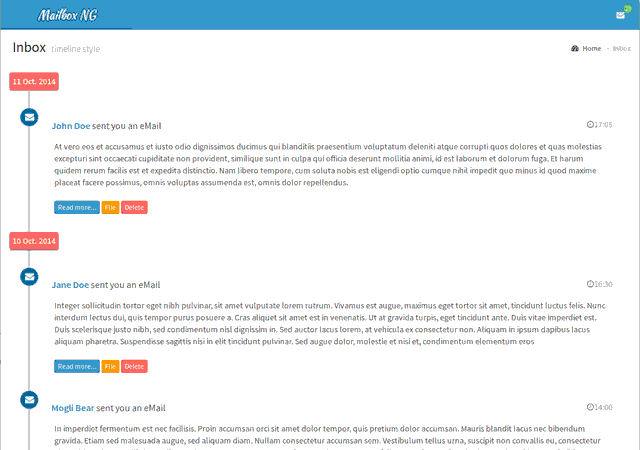 The steps to get there:
Tweak the vert.x service to render a categorized by date version of the inbox. You can do that without touching the underlying view. I'll provide details on that modules in a later article (and some sample data below). The main difference for now: the inbox data will be available at the URL /notes/categorized/($Inbox)
Create templates and directives for Angular
Create the Angular.js app and its Controllers
Of course, no application is complete with a nice set of challenges. The biggest here was the flat list for the time line. I tried to adjust the CSS to accommodate a hierarchical list, where the outer elements are the date containing all messages arrived at that day, but there was too much CSS. So I decided to tweak the output a little.
---
Read more
Posted by Stephan H Wissel on 30 September 2014 | Comments (0) | categories: IBM Notes JavaScript Software WebDevelopment