---
Reader Fields and
how to handle them
to balance security and performance is a
never ending topic
. Let us have a a closer look what actually happens. Let us assume we have a view with 500,000 document, where a particular user has access to 77 documents (which is not so uncommon in big organizations). In the first case the view is sorted by some criteria (case number, date or whatever) that scatters the 70 documents all over the database.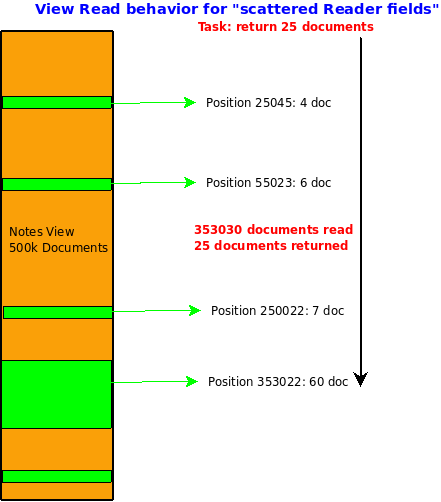 When the user e.g. opens that view from the web requesting the default 25 entries, the Domino server actually will more than 350,000 documents. It needs to instantiate a document object and evaluate access control rules for it. These are costly (read time and memory) operations. Performance will not meet any user expectation. Ironically this is hardly discovered by developers since they test with a few hundred documents and very often have universal access. With a little change of the view layout, the situation changes completely. We take the same view but categorize it by e.g. by @Unique(DocAuthors:DocReaders) which would list all documents for a specific reader (remember: an Author field includes Read Access Rights).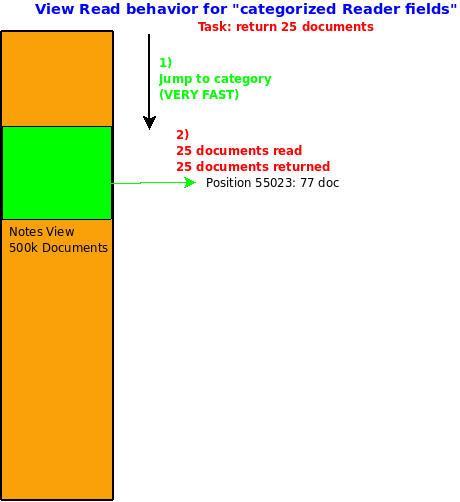 Now the Domino Server does an index search which is very fast going after a build index and reads exactly 25 documents. So with a little change in the view layout we removed 99.9929% of the document reads (bad news for hardware sellers). Looks good.... but you will say: wait a second. One user can have read access because her name is in a Reader/Author field, she might be member of a group or have a specific role, the single category only will show me
one
of that entries at a time.
---
Read more
Posted by Stephan H Wissel on 28 February 2009 | Comments (6) | categories: Show-N-Tell Thursday